qb-inventory based on qbcore framework and slot based inventory.  So, I know the NoPixel 3.5 inventory update is a very controversial topic for most people. So, here's our own take and spin on the design.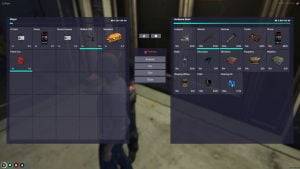 Features
ALL IMAGES FOLLOW THE SAME DIMENSIONS
Custom brand logo above option buttons
Options menu
Help box
Custom inventory images (more always being added in each new update)
Default weight icon easily changeable with Font Awesome icons
Hotkey numbers visible in inventory and hotbar slots
Weight progress bar
Tooltip has a determined height (so it won't ever go higher than visible or cut off)
Text overflow ellipsis used (so your product titles with never overlap the containers and instead do "…")
Blurred inventory background
Elements of NoPixel 3.5 design ideas interwoven
For more scripts visit : FiveM Scripts
if you want to buy unique fivem mlo and fivem server visit our FiveM Mlo , FiveM Server page.
Visit QBCore Scripts for more scripts
We have fivem server for sale get it now